In 2004, two Danish businessmen, Lars Nørby Johansen and Jørgen Philip-Sørensen, were the main forces behind the establishment of the world's largest security company, G4S. Just a year later, both disappeared from the company in a vague way. G4S still praises itself for its Danish roots, but around the world, the giant is nowadays better known for mismanagement – murder, torture, surveillance and other human rights violations, which are traditionally not associated with Denmark, the Danish business community, or the region Scandinavia. G4S's shabby human rights record recently led to the divestment of crucial Danish and Norwegian G4S shareholders.
G4S is still listed on the Copenhagen Stock Exchange, which begs the question: how Danish is G4S really? And how did the Danes become so deeply involved in a company that has been known for its human rights violations, especially in the last ten years? G4S has been lambasted for providing technology that has been used to keep Palestinians on their side of the Israeli wall, for allowing torture and suspicious deaths to happen at their South African prison, for contracting with the very controversial Guantanamo Bay prison, and for mistreating prisoners, youth and migrants in the UK, which resulted in the company losing various contracts. Have these developments taken place with the support of the Danes? Or did this happen in spite of the Danish influence?
The creation of the G4S took place after a heady race with the two different men at the helm.
Lars Nørby Johansen is perceived in Denmark as one of the banner bearers for modern management and a committee on corporate governance is named after him, the Nørby Committee. He led the company Falck – which merged with Group 4 Securitas in 2000 to Group 4 Falck – in a large number of acquisitions and share exchanges until the establishment of G4S in 2004, and he was at that time considered one of the most influential businesspeople in Denmark.
As one of the richest companies in the UK, Jørgen Philip-Sørensen ran the privately-owned Group 4 Securitas. His father started the company that later developed into Securitas. In 1974, Jørgen Philip Sørensen and his brother Sven took over the company from their father, but after seven years, they split because of repeated disagreements. The company was divided into a Swedish part, which retained the name Securitas under the leadership of Sven, and an international part under the name Group 4 Securitas, which Jørgen headed.
Just two years later, in 1983, Sven sold his interests in Securitas, which today is the world's second largest security company, and it is in fierce competition with G4S.
Jørgen Philip-Sørensen is described as a sometimes-combative gentleman, visionary, informal, jovial, anti-intellectual, vain and enterprising. He had a very different approach compared to the spirit and methods of the listed company, Falck, which Lars Nørby Johansen headed.
Nørby in apprenticeship with Peter Christoffersen
Lars Nørby Johansen has on several occasions refused to speak to Investigative Reporting Denmark in connection with this article on the Danish origins of G4S. Jørgen Philip-Sørensen died in 2010 at the age of 71.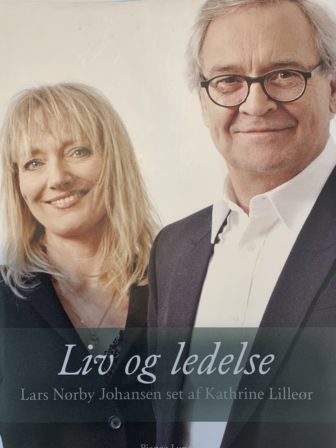 Therefore, this article is mainly based on two books. First, the 2011 book that portrays Lars Nørby Johansen, "Life and leadership", written by the priest Kathrine Lilleør (this will be referred to as the 'portrait book' from now on). Secondly a book about the first 100 years of Falck, "Falck 1906-2006" written by Professor Kurt Jacobsen, published in 2006.
Lars Nørby Johansen was appointed top manager of Falck when the insurance company Baltica bought the company in 1988. At that time, Falck was focused on rescue work: ambulance service and roadside assistance. Baltica had developed some minor activities in security, which were transferred to Falck. Falck was a company in deep financial trouble.
Nørby Johansen was introduced into the company two years earlier as a claims manager by Baltica's top manager Peter Christoffersen.
Educated in political science and with a ten-year career as a researcher and lecturer at the University of Southern Denmark, Nørby Johansen was not a typical businessman. However, Peter Christoffersen saw great potential in him because of his charisma and ability to structure and make things happen.
"In the beginning, Lars needed help. And he got it from me. Together with his intelligence, that is the reason why he succeeded," Peter Christoffersen told Nils Mulvad of Investigative Reporting Denmark.
Falck close to succumbing
During the financial crisis in Denmark in 1991-92, very intense competition in the insurance market also developed and this is known as the great Nordic Insurance War. Falck was close to succumbing to pressure, together with Baltica. But Falck survived.
Falck had at that time started branched out to countries other than Denmark, but it was not until 1993 that security became a second leg within the Falck company. This was achieved by merging with ISS Securitas.
The acquisition provided the first financial muscle to an acquisition strategy. A listing on the Copenhagen Stock Exchange two years later and repeated share extensions provided the financial foundation for a large number of acquisitions and mergers with companies first in the Nordic region and then the rest of Europe.
Lars Nørby emptied Falck of money for acquisitions
The old Falck with its rescue activities struggled to keep up, while Lars Nørby Johansen built up Falck's European position in the security industry. In 2000, together with Jørgen Philip-Sørensen, he was able to establish Group 4 Falck as the world's second largest security company at the time. A feat that took him seven years.
The decrease of rescue work within the Falck company is discussed in the book "Falck 1906-2006". The author, Professor Kurt Jacobsen, had access to a large number of internal documents. The documents demonstrated that there was a clear murmur of dissatisfaction among investors and shareholders. This is why the merger in 2004 between Group 4 Falck and Securicor also meant a complete separation of the security tasks that to this day remain prominent within Group 4 Securicor, and the rescue tasks that belonged to Falck Danmark A/S.
"The first priority for Lars Nørby Johansen was growth. He was not particularly interested in the rescue industry. He emptied Falck of money and used it for a growth adventure," told Kurt Jacobsen today to Nils Mulvad.
Father-son relationship between the two business people
In the book that portrays Nørby Johansen, he is quoted as saying that Jørgen Philip-Sørensen and he were very enthusiastic about each other. According to the book, they began meeting with mutual acquaintances a year before the establishment of Group 4 Falck, in the year 2000. In the book about Falck's 100 years of history, it is said that they met three or four years before the merger.
"I have previously called it a father-son relationship, because there were strong feelings between us," said the ten-year younger Lars Nørby Johansen in the portrait book.
When Group 4 Falck was established, Jørgen Philip-Sørensen became the chairman of the board, while Lars Nørby was the responsible director. However, it also led to clashes.
"Maybe I sometimes put my foot down a little too hard and said: This is my street! Never in any disgusting or unpleasant way, I think, but maybe I should have shown more acceptance towards him. I do not know, but I say it because there were some conflicts towards 2004 and 2005."
Professional dream of merging with Securicor
In the portrait book, Lars Nørby Johansen also says that Jørgen Philip-Sørensen's big professional dream was that his company could be merged with another security company, Securicor.
By joining the charismatic Lars Nørby Johansen in a listed company, Philip-Sørensen got access to a platform to negotiate a merger with Securicor. It did not succeed in the first attempt, but in 2004 the world's largest security giant, Group 4 Securicor or G4S was created. The head office of the company moved from Copenhagen to London.
G4S retained Jørgen Philip-Sørensen and Lars Nørby Johansen in the same positions as in Group 4 Falck, but Jørgen Philip-Sørensen was to retire as chairman of the board the following year, in September 2005, when he turned 67. Lars Nørby Johansen meanwhile, at an appropriate time, was to be succeeded by Nick Buckles, who used to be Securicor's CEO.
Lars Nørby Johansen is thrown out of G4S
At the merger, the old Falck, with its rescue work, was completely separated from G4S – and G4S had no influence on the company. In other words, Falck had provided a platform for the formation of the world's largest security company, but now the two had to go their separate ways in completely separate companies.
"An appropriate time" came very quickly. After being in London for three-quarters of a year, the then 55-year-old Lars Nørby Johansen was called in for a conversation with Philip-Sørensen who would be told that that day had come.
"Philip was given hell during the meeting. He was sweating and looking down at the table and he could not form correct sentences. It was not right," said Lars Nørby Johansen in the portrait book and he continued:
"Perhaps I was a victim of what I have exposed myself to. I do not know. This is a question I have often asked myself. But I think Philip and I were closer than I have been with my employees. It was cold, simply."
Lars Nørby Johansen himself reckoned that he might be able to take over Philip-Sørensen's place as chairman of the board, now that the position became vacant within a few months. Or at least that he should be involved in the discussion about his own departure.
Unclear why Nørby had to leave so quickly
It is still unknown why Lars Nørby Johansen had to leave so quickly and in the way that he did.
In the portrait book, it was stated that it was important to eliminate any uncertainty about when the announced change of leadership to Nick Buckles should take place. And at the same time, the company was going to start a new strategy, and it was important that it was the future boss was in charge of that work.
But could there be another reason for Nørby'sdeparture?
Could it be because there was a need for a more consolidating phase? Under Nørby Johansen, for 16 years, a very hectic acquisition and merger strategy had taken place in Falck and Group 4 Falck. The Board of Directors perhaps did not trust that Nørby Johansen could provide the necessary stewardship for the consolidating phase.
Could it be because Nørby Johansen did not want G4S to be known for providing security and arms to Israel in the occupied territories and that it had run American prisons under terrible conditions – issues that had appeared in the Danish media in 2002?
Or could it be a combination of all these reasons and perhaps also reasons we will never know. As mentioned before, Lars Nørby Johansen refused to answer any questions.
Authors Katrine Lilleør states in the book about Philip-Sørensen:
"It was a drive in him when he was 60, to find a successor. When he turned 65, he was not at all willing to give up a lot. He was much more interested in having someone who did as he said. "
In the book, Nørby Johansen replies:
"There are others who have been formulated it similarly. I just have a hard time saying it myself. But I think you've hit on something. "
Toxic cocktail
History professor Kurt Jacobsen points out that a very special dilemma existed between G4S and Nørby Johansen. Danish companies that run companies abroad have to follow the law of the land in these foreign countries. They cannot for example change local rules or legislation on unions and employee involvement.
American Wackenhut, which Group 4 Falck bought in 2002, did not accept unions, and the American workers showed up at Group 4 Falck's annual meeting in Copenhagen to push for an acceptance of unions. This was in vain.
Compared to other industries, the security industry is characterized by the exploitation of employees and has poorer working conditions than other industries.
"The Falck rescuers were very upset with the stories about Wackenhut and Group 4 Falck providing security and arms to the occupied West Bank," Kurt Jacobsen told Nils Mulvad.
"For Nørby Johansen, it was a particularly difficult combination, on the one hand, to be known for his attitude to corporate governance which included a deep respect for employees and their involvement in management. On the other hand, he had to admit that he was unable to change "anything within the corporate governance in other countries. And to make it even more difficult for him, the formation of G4S had very little support internally in the old Falck," emphasized Kurt Jacobsen.
Perhaps this was in fact the most decisive factor in evicting Lars Nørby Johansen out of G4S. With his support for Danish management values, he would be a difficult top level figure to have in G4S – regardless of whether he was the executive director or chairman of the board.
The two never met again
After the brutal eviction from G4S, Nørby Johansen moved back to Copenhagen, where he served as the chairman of Falck and some other boards.
"I got a couple of offers when I got home. I was offered a CEO job and I was seriously considered but I said no. It was not really interesting, because I could see that the story I had just been through was so bizarre and problematic that I would never be able to repeat it."
Nørby Johansen has not met with Jørgen Philip-Sørensen since this time. They only exchanged a few words when Nørby Johansen married.
"I think he congratulated me when I got married. But otherwise nothing."
Two years after Nørby Johansen's farewell as chairman of Falck Danmark A / S, his protege, director Allan Søgaard Larsen, was fired. This happened in 2016, after the Danish Competition Authority searched Allan Søgaard Larsen's office in a case about the competitor BIOS. Falck had designed a – later deemed illegal – strategy to keep its main competitor, BIOS, out of the market. This case was a starting shot of the unraveling of Falck's business whereby it employed illegal means to keep competitors out of the market.
Allan Søgaard Larsen refused to comment on the case to Nils Mulvad.
Philip-Sørensen leaves G4S in September 2005
Philip-Sørensen departure from G4S is equally shrouded in mystery and unanswered questions.
A few months after the conversation with Nørby Johansen – in September 2005 – Jørgen Philip-Sørensen turned 67, and he reached retirement age. Several people tried to persuade him to continue with some form of affiliation with G4S, but he refused and instead threw himself into expanding his activities in the town Skagen, a town he enjoyed visiting.
Jørgen Philip-Sørensen had a Swedish passport, but he always said that he was Danish at heart. In particular, his heart beat proudly for the town Skagen in northern Denmark.
He owned a hotel called Strandhotellet since 1979. He bought 'Ruths Hotel' in 2003.
He bought a shipyard that produced luxury boats, Danish Yachts, as a specialty, in 2002.
In the years after G4S, he immersed himself in the renewal of Ruths Hotel and he made it into a gourmet hotel in Skagen.
When Jørgen Philip-Sørensen died at the age of 71 on 18 January 2010 – a bit less than five years after his farewell to G4S – he was buried at Højen Cemetery close to Ruths Hotel in Skagen.
Why Jørgen Philip-Sørensen completely left the security industry in the last years of his life is not officially stated anywhere.
The Danish connection disappears
G4S's Danish connection does not end completely with these two men. One of the members of the board of G4S under Jørgen Philip-Sørensen was the Dane Alf Duch-Pedersen and he became the chairman of the board in 2006. He continued until 2012, when he was 65-year-old and he was part of a failed attempt to merge G4S with the Danish cleaning giant ISS. This is when Alf Duch-Pedersen left G4S.
Nick Buckles also left G4S. He was fired in 2013 after being held responsible for the company's failure to secure the London Olympics the year before.
G4S violates human rights
Stories about G4S providing weapons for Israel in 2002 in the occupied West Bank and the harsh methods employed by G4S in American prisons have only multiplied. Here are some examples:
• 2009: G4S security guard Danny Fitzsimons shot dead two colleagues in Baghdad, Iraq. G4S was warned that Danny Fitzsimons had a violent criminal background. The company knew this yet armed him and sent him to Iraq.
• 2010: During the repatriation of Angolan immigrant Jimmy Mubenga from London to Angola, three G4S guards held his head against the floor of the cockpit. Before he died, the 46-year-old father shouted: "I can't breathe". The three security guards who carried out the controversial restraint were acquitted in a subsequent trial.
• 2012: G4S failed to meet their contractual obligations to provide security at the London Olympics. The British military had to be deployed to manage the Olympics.
• 2013: Disclosure of the widespread use of electroshocks, the proliferation suspicious deaths, the forced medication with anti-psychotic drugs and the long-term isolation of inmates in a South African prison, run by G4S.
• 2014: Refugees protests took place for several days at the Australian G4S-run offshore detention center on Papua New Guinea's Manus Island. The protests were directed at the heavily overcrowded camps and the inhumane Australian refugee policy. 23-year-old Kurdish-Iraqi asylum seeker Reza Barati was killed in the riots, and staff and management at the center filed lawsuits against G4S because they felt at risk and suffered physical and psychological harm during riots.
• 2016: The BBC screened an undercover documentary that revealed how G4S employees at the Medway Secure Training Center in Rochester, England neglected, abused and maltreated young boys aged 14-17. The staff had little training in taking care of children.
• 2016: At a gay nightclub in Orlando, off-duty G4S guard Omar Mateen shot dead 49 people. This lead to fierce criticism of G4S for equipping inappropriate people with weapons, with little to no vetting or checks.
• 2016-2018: Migrant workers in Qatar and the United Arab Emirates (UAE) who worked for G4S complained about restrictions on their freedom of movement, harassment, payment of very high recruitment fees and misleading information about the length of contracts and salaries.
• 2017: G4S suspended nine employees at the Brook House refugee center at Gatwick Airport following a BBC documentary that revealed, through undercover work and a hidden camera, how the staff mocked, abused and assaulted the refugees.
• 2019: The Government Pension Fund in Norway divested from G4S because of the human rights violations of G4S employees in Qatar and the United Arab Emirates.
• 2020: The Danish pension fund, MP Pension, also dropped G4S because of the human rights violations in the Gulf states. Other pension funds were also considering similar action.
• 2020: G4S received a fine of 44 million British pounds from the UK Serious Fraud Office. G4S had fraudulently charged the British government for providing electronic monitoring of approximately 3000 non-existing 'phantom inmates' in British prisons.
At the time of the establishment of G4S in 2004, the group had 340,000 employees in 108 countries and an annual turnover close to 5.6 bn Euro. Today, the company has more than 570,000 employees and last year, the insurance group's total turnover was 8.5 bn Euro. The company is still listed on the stock exchanges in London and Copenhagen.

The investigation supported by Journalismfund is a part of the cross-border cooperation Private Security Network.